Canada Digital Adoption Program

As part of the Canada Digital Adoption Program, the Government of Canada has partnered with The Ontario Chamber of Commerce to deliver the Grow Your Business Online grant to small businesses across the country.
Eligible businesses will receive a micro-grant of up to $2,400 to help with the costs related to adopting e-commerce and supported by a network of e-commerce advisors.
We are currently putting in place the final touches on the program – in the meantime, start your application process by leaving your name and contact information, and we will follow-up with you directly.
If you have any questions about the Grow Your Business Online, please contact cdap@occ.ca.
Why Hire a Person with Disability?
Benefits of Hiring PWD
The COVID-19 pandemic brought the world to a stand-still. In Ontario, this resulted in numerous lock downs and restrictive measures that heavily impacted businesses. The pandemic's lasting effect is still being felt by businesses, especially when it comes to recruiting and retaining employees. The OCC (Ontario Chambers of Commerce) and the Discover Ability Network believe that one answer to this widespread issue is through utilizing an untapped talent pool of people who self-identify with a disability (PwD).
There are many benefits in hiring people with disabilities. A major issue coming out of the pandemic is employee retention. One prominent advantage of hiring persons with disabilities is that they have a higher-than-average retention rate and company loyalty (Turning diversity into $, 2014). Higher retention means that recruitment costs become lower. People with disabilities also add to the productivity of a company with 90% of employees with disabilities rating average or better on performance (Graffam, Shinkfield, Smith and Polzin, 2002). Absenteeism has also become a major issue for businesses across Ontario. Employees with disabilities rate average or better on attendance (Graffam, Shinkfield, Smith and Polzin, 2002). But most importantly, as many companies have yet to access this talent pool, there are hundreds of qualified candidates looking to begin work and advance their careers, making recruitment faster.
To ease the difficulty of recruitment, the Discover Ability Network provides free training, networking, and a free job matching platform to help business connect to these qualified applicants faster. To learn more about the Discover Ability Network and how hiring people with disabilities can benefit your business, visit
https://discoverability.network/.
Please contact Boyan Mitrovic, Programs Manager at the Ontario Chamber of Commerce at boyanmitrovic@occ.ca for any questions you might have on posting jobs (free of charge) or available training on hiring and retaining employees who self-identify with a disability.
Disability inclusion isn't just about hiring people with disabilities. It's also about:
Increased profits

Lower costs

Improved productivity
Your bottom-line will improve and as an added benefit you'll be helping strengthen Ontario's economy.
If you have never worked with, or hired, a person with a disability, this website will help you get started. Good business practice and a positive attitude are really all you need to get started. In fact, the most challenging aspect of becoming an inclusive employer can be summed up by the phrase "but that's the way I've always done it."
For more information, visit https://haltonpeel.discoverability.network/business/
Recovery Activation Program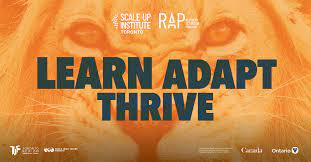 Receive fully-funded immersive training, mentoring
and support to assist with digital modernization at no cost to you.
The Recovery Activation Program (RAP) offers the support you need to evolve your business, digitally transform, and adapt to the new normal.
RAP can help you leverage technology to:
Attract new customers

Improve supply-chain efficiencies

Manage your workforce virtually

Streamline costs
For more information, visit https://wtctoronto.com/rap/