The Voice of Business Overview
The Halton Hills Chamber of Commerce is the 'voice of business' in Halton Hills, championing important issues for the business community.
Key issues have been identified, which we amplify at various committees, communicate to elected officials, discuss at our events and address through our programming. Read more on key issues, recent activities, policies and reports.
Key Issues:
Transit & Transportation
Growth Management
Economic Development
Housing affordability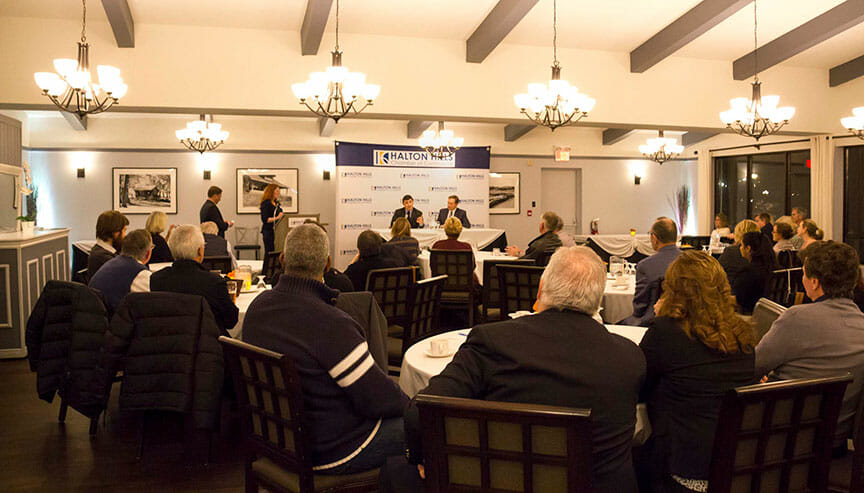 As the voice of business in Halton Hills, the Chamber believes in partnership and collaboration. Together we are stronger – both in terms of the size and strength of our network, and in having our community recognize us as a trusted partner; one who makes evidence-based decisions with the shared goal of a stronger Halton Hills.
Access to Elected Officials
The Halton Hills Chamber provides members with opportunities to engage with our elected officials – Mayor, Town Council, MPPs, MPs, and Cabinet Ministers at lunches, breakfasts and networking events.
Consultation & Collaboration
By working together, we can achieve so much more.
The Chamber makes your voice heard in a number of forums:
Participation in various community engagement initiatives, including the Official Community Plan, Regional Growth planning, Tourism Planning and engagement with various sector associations.
Collaboration with the Ontario Chamber of Commerce, the four Halton Chambers, Canadian Chamber of Commerce, Acton and Georgetown BIAs to identify collective issues and ways of working together to achieve our goals.
Please let us know if there are any opportunities or issues we should be aware of by emailing Melanie Frazer, President and CEO at mfrazer@haltonhillschamber.on.ca.