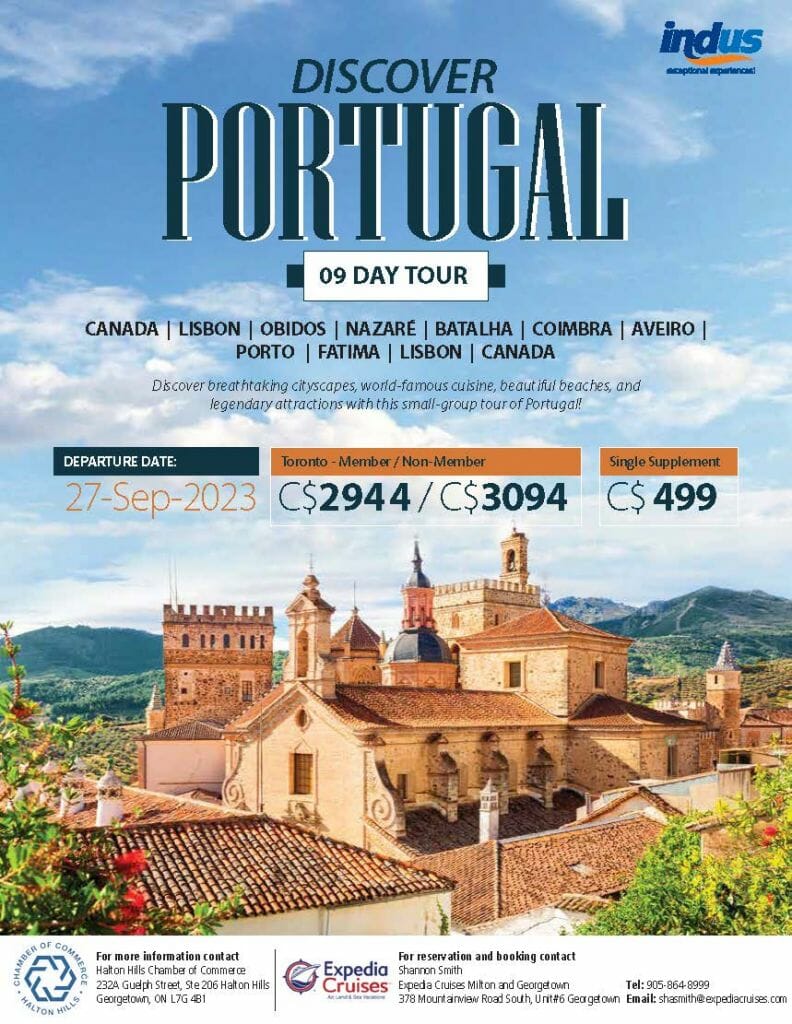 Get ready for an adventure of a lifetime!
Join us on our Chamber trip to Portugal on September 27th. Not only will you get to explore the beautiful country with a group of like-minded travelers, but you'll also save money by booking through the Chamber.
Don't miss out on this opportunity to create unforgettable memories and make new friends.
The low price includes airfare, double occupancy at superior-level hotels, daily breakfast, excursions and MORE!
Discover the beauty and magic of Southwestern Europe with this 9-day small-group tour of Portugal!
This breathtaking country is famous for its intertwining cobblestone streets, captivating coastal villages, world-class wines, golden beaches, and delicious cuisine.
Begin your journey in Lisbon, known for its extraordinary mix of architectural styles and famous landmarks. Discover the Monastery of Jeronimos, a 16th century World Heritage Site, and explore Belem, where you may try a traditional Pastel de Nata.
From there you will travel to Obidos, a medieval walled city in the north, home to a breathtaking hilltop castle and narrow cobblestone streets. Wander through the fishing village of Nazare and visit the Monastery of Santa Maria in Batalha.
Arrive in Coimbra, home to the magnificent Mondego River and the oldest university in Portugal. Explore Aveiro, dubbed the Venice of Portugal thanks to its picturesque canals, and travel to Porto, a breathtaking coastal city situated on the Douro River and one of the top tourist attractions in Europe! Here you will be able to sample sumptuous foods and drinks as you take in the stunning scenery along the river before you visit the Sanctuary of Our Lady of Fatima, one of the most important pilgrimage sites known to Christianity, where the Virgin Mary is believed to have appeared in 1917. From there you will make your way back to Lisbon to end your tour of Portugal filled with unforgettable memories!